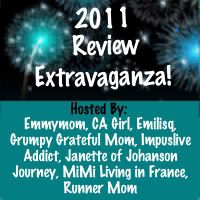 I'm linking up with a ton of wonderful gals, including my girl,
Impulsive
, who want to know what we have been up to this year. This week, we're recapping January, February, and March.
In January, I shared a list of Home Goals for the year (that are still waiting to be completed) and a recap of the Rev and I's trip to the Chick-fil-A Bowl in Atlanta.


In February, I showed you what a letter from me might look like, how to patch up your hubby's ridiculously-shabby-but-we couldn't-live-without-it shirt, and shared a cheap storage solution for one of my favorite accessories, the scarf.
In March, we made earrings out of candy, brought you The Best Baked Penne and the Rev issued a public service announcement about how not to use this.
What about you? What were you up to earlier this year? Link up with the ladies and tell us!