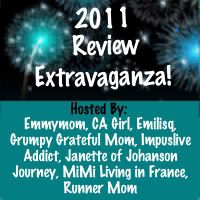 I'm joining up with all of the girls for another week of reviewing some of 2011's best. Up this week is April, May, and June.

In April, I attempted
Homemade Cadbury Cream Thingys
and was forced to fess up that for a change
The Rev Was Right
.
In May, the Rev finally finished up
The 20 Year Plan
and became a college graduate. And I shared a
Quick Teacher Appreciation Gift
(which would also make a great Christmas gift, as well!).
In June, I shared my obsession with
Grape Salad
with you and showed you what I made for
my heroes
.
What was going on in your neck of the woods this spring?